Working from home has settled in as the new normal, so there are many new risks that enter your business data protection equation.  Cyber risk in your company is growing. Don't kid yourself…it's not just the big companies that are the targets of attacks.  Companies just like yours are being attacked daily (link to https://cyware.com/category/breaches-and-incidents-news).
Vulnerability scanning tools generate large volumes of data, which generate too much data to effectively manage. Due to the volume of data, "65% of organizations struggle to prioritize what vulnerabilities need to be fixed." *2018 Ponemon Institute & Service Now Study
A risk-based approach to vulnerability management enables security teams to focus on the vulnerabilities and assets that matter most while deprioritizing the vulnerabilities that are unlikely to ever be exploited.
TARA uses risk-based vulnerability management to provide you with cyber insights you otherwise wouldn't have.
Here's how TARA works:
Step 1 Evaluates – Scans your environment for vulnerabilities
Step 2 Predicts – Feeds dark web research into AI to predict risk and map it to vulnerabilities
Step 3 Tells – Prioritizes mitigation and tells you what to fix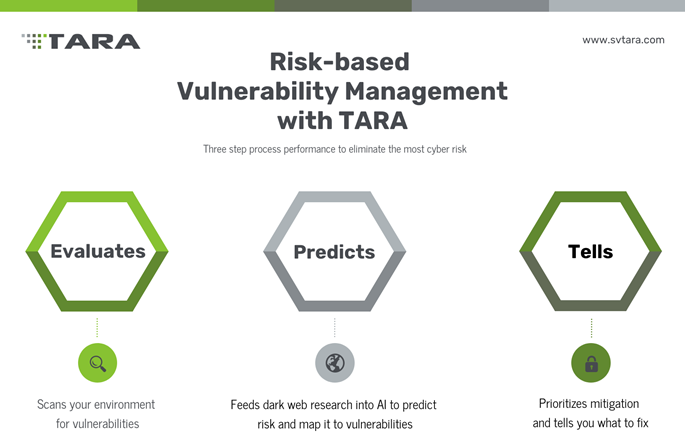 Taking a risk-based approach enables you to know how to invest your resources to eliminate the most cyber risk, so you can make the best use of your limited security resources. Stop worrying about whether or not your business data is protected and instead make informed decisions on where to spend money in your business to be confidently cyber protected.
Request a demo.